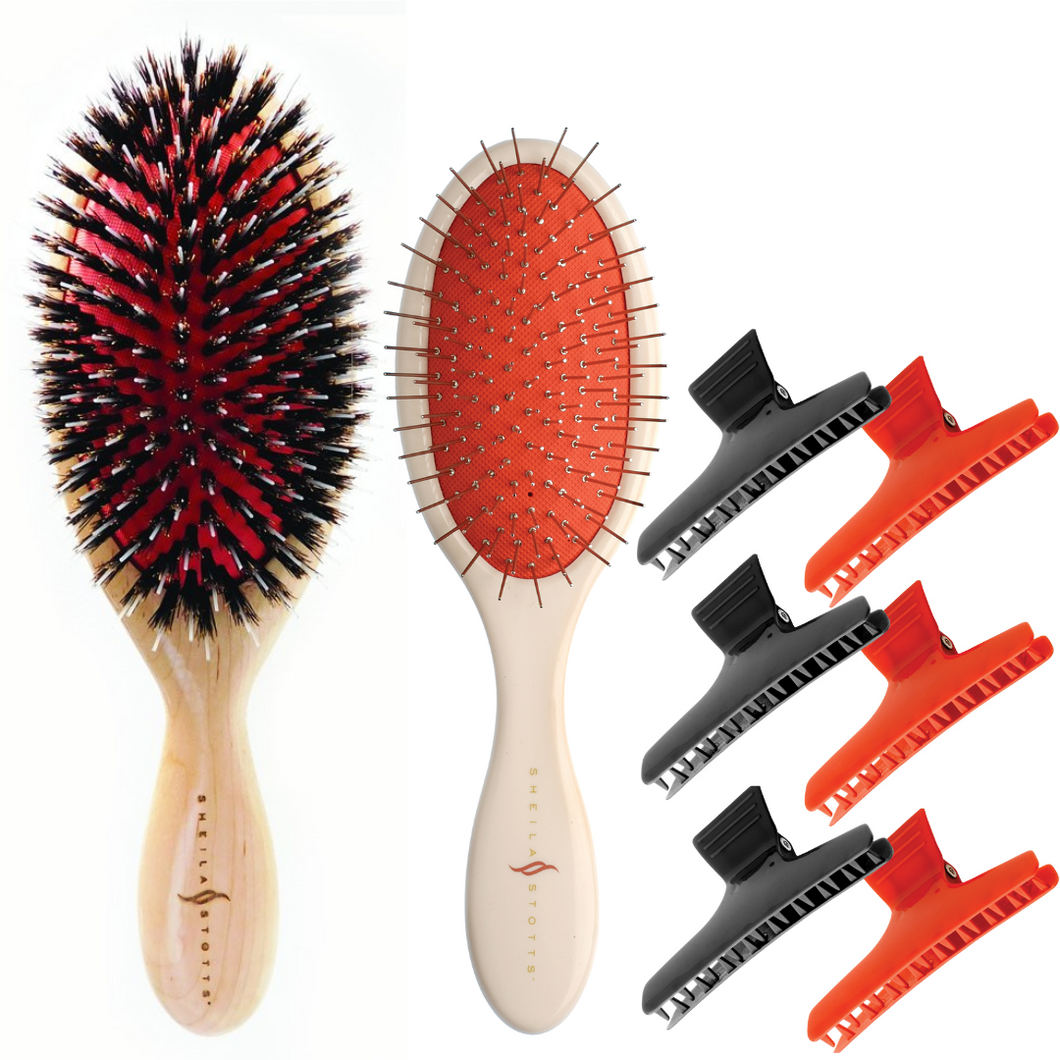 Luxurious Healthy Wash Day
Regular price $170.00 $149.00 Sale
Healthy hair starts at your scalp. This set includes 1 Untangle brush, 1 Mixed Natural Boar & Nylon Large brush & 1 set of Jaws. $170 value
Untangle brush with DRAINAGE HOLE for use in the shower and on wet hair
Mixed Natural Boar & Nylon brush great for scientific brushing, scalp massage & styling
Jaws

 perfect for sectioning hair while styling or during masks & deep treatments. Set of 12
Start with the Untangle brush, our original, classic, plastic brush with gentle metal needle-like teeth makes detangling hair a breeze. After hair is thoroughly detangled use the Jaws to section hair. Next up is our Mixed Natural Boar & Nylon brush to give yourself a scientific brushing (see detailed instructions below). This exceptional brush features a signature solid wood handle, the combination of boar and nylon bristles, a flexible rubber cushion makes detangling, stimulating blood flow, exfoliating, dead scalp/skin, creating natural sheen and volume while reducing frizz and flyaways.
Once in the shower use the Untangle brush again for detangling wet hair, massaging the scalp while shampooing and to distribute conditioner. Use the Jaws to clip hair up to let the conditioner or deep treatment mask work while you finish your shower. The Untangle brush can be easily cleaned of any product and you should always expel any excess water from the brush by pushing on the pad to squeeze out water through the drainage hole. After, the brush can be placed face down on a countertop after use so any residual water can drain from the drainage hole.
Dimensions: 
Untangle: 8.5"x2.5"x1.25"
Mixed Natural Boar & Nylon Large: 9"x2.75"x1.75"
Jaws: 

12 jaws per pack. 6 red & 6 black



SCIENTIFIC BRUSHING:
Every single strand of hair has its very own follicle it grows from which is supported by its sebaceous oil gland, muscle, blood supply and nerve endings. Hair has a life cycle of dropping 50-100 strands a day which is normal fall out as a new hair is growing in. Once your hair is tangle free begin with small sections and partings so you can thoroughly get into the entire scalp in that area. Brush beginning on the scalp, like a mini massage, in a zigzag motion with bristles on the scalp back and forth, then rolling the brush with your wrist gliding the brush out from the scalp down the entire strand to the ends. Repeat this in each area a few times throughout the entire head for at least 5-10 minutes. You can even flip your head upside down during this process.
Removing dead scalp/skin helps unblock the follicle which holds onto hair that needs to shed, this allows the scalp to breathe, creating a balance of the natural oil on the scalp, along with allowing any hair growth serums to penetrate easier. Stimulating the scalp helps increase blood flow delivering more nutrients and oxygen to the new incoming hair follicles and brain which aides in stronger faster hair growth and is stress relieving. Activating the sebaceous gland producing your own natural oil is natures best conditioner, which strengthens the strands polishing and preserving them for a natural sheen, stronger, fuller and shiner hair.
Now you get can enjoy BRUSHING for HEALTHIER HAIR GROWTH!
All sales are FINAL unless there is a manufacturer defect. Please make sure you are picking the correct item and read the descriptions in full to understand the functionality and size of each item. All route insurance and shipping charges are nonrefundable.    
If you have any questions about a product prior to your order or if a defect is present once you receive your order please contact CustomerService@SheilaStotts.com.